TRAILER and TRUCK SALES/SERVICES
Trailer and Truck Sales plus Superior Service for Heavy Duty Diesel Trucks and Trailers!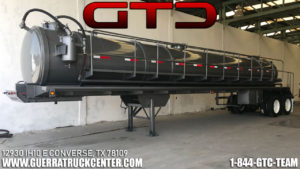 Brand New 2019 GTC Steel Vacuum Trailer for Sale: 130 bbl Shell A36 Ga 1/4″ Rolled Rings External Tandem axles (30,000lbs) with 77 1/2 track HT-300 Air ride suspension ABS Brake System $33,900 Call Guerra Truck Center Now at 210-648-0316 for more details and Financing Options!!!  
We Keep You On The Road... We do it all at a fair price!
What People Are Saying About Us
You'll receive special offers, discounts and news about our upcoming events! GTC respects your email privacy and we will never sell or rent your email address to anyone.
eyJpZCI6IjExIiwibGFiZWwiOiJTdWJzY3JpYmUiLCJhY3RpdmUiOiIxIiwib3JpZ2luYWxfaWQiOiI1IiwidW5pcXVlX2lkIjoiYnNvMTVpIiwicGFyYW1zIjp7InRwbCI6eyJ3aWR0aCI6IjEwMCIsIndpZHRoX21lYXN1cmUiOiIlIiwiYmdfdHlwZV8wIjoibm9uZSIsImJnX2ltZ18wIjoiaHR0cHM6XC9cL3N1cHN5c3RpYy00MmQ3Lmt4Y2RuLmNvbVwvX2Fzc2V0c1wvZm9ybXNcL2ltZ1wvYmdcL3RlYS10aW1lLnBuZyIsImJnX2NvbG9yXzAiOiIjMzMzMzMzIiwiYmdfdHlwZV8xIjoiY29sb3IiLCJiZ19pbWdfMSI6IiIsImJnX2NvbG9yXzEiOiIjMzMzMzMzIiwiYmdfdHlwZV8yIjoiY29sb3IiLCJiZ19pbWdfMiI6IiIsImJnX2NvbG9yXzIiOiIjZGQwMDAwIiwiYmdfdHlwZV8zIjoiY29sb3IiLCJiZ19pbWdfMyI6IiIsImJnX2NvbG9yXzMiOiIjZGQzMzMzIiwiZmllbGRfZXJyb3JfaW52YWxpZCI6IiIsImZvcm1fc2VudF9tc2ciOiJUaGFuayBZb3UgZm9yIFNpZ25pbmcgVXAgZm9yIE91ciBDdXJyZW50IE5ld3MgYW5kIFVwZGF0ZXMhIiwiZm9ybV9zZW50X21zZ19jb2xvciI6IiNmZmZmZmYiLCJoaWRlX29uX3N1Ym1pdCI6IjEiLCJyZWRpcmVjdF9vbl9zdWJtaXQiOiIiLCJ0ZXN0X2VtYWlsIjoibGl6QHBtb3NpdGVzLmNvbSIsInNhdmVfY29udGFjdHMiOiIxIiwiZXhwX2RlbGltIjoiOyIsImZiX2NvbnZlcnRfYmFzZSI6IiIsInB1Yl9wb3N0X3R5cGUiOiJwb3N0IiwicHViX3Bvc3Rfc3RhdHVzIjoicHVibGlzaCIsInJlZ193cF9jcmVhdGVfdXNlcl9yb2xlIjoic3Vic2NyaWJlciIsImZpZWxkX3dyYXBwZXIiOiI8ZGl2IFtmaWVsZF9zaGVsbF9jbGFzc2VzXSBbZmllbGRfc2hlbGxfc3R5bGVzXT5cclxuICAgIDxsYWJlbCBmb3I9XCJbZmllbGRfaWRdXCI+W2xhYmVsXTxcL2xhYmVsPltmaWVsZF1cclxuPFwvZGl2PiJ9LCJmaWVsZHMiOlt7ImxhYmVsIjoiIiwicGxhY2Vob2xkZXIiOiJOYW1lIiwiaHRtbCI6InRleHQiLCJ2YWx1ZSI6IiIsIm1hbmRhdG9yeSI6IjEiLCJuYW1lIjoibmFtZSIsImJzX2NsYXNzX2lkIjoiMTIiLCJkaXNwbGF5IjoiIiwibWluX3NpemUiOiIiLCJtYXhfc2l6ZSI6IiIsImFkZF9jbGFzc2VzIjoiIiwiYWRkX3N0eWxlcyI6IiIsImFkZF9hdHRyIjoiIiwidm5fb25seV9udW1iZXIiOiIwIiwidm5fb25seV9sZXR0ZXJzIjoiMCIsInZuX3BhdHRlcm4iOiIiLCJkZWZfY2hlY2tlZCI6IjAifSx7ImxhYmVsIjoiIiwicGxhY2Vob2xkZXIiOiJFbWFpbCIsImh0bWwiOiJlbWFpbCIsInZhbHVlIjoiIiwibWFuZGF0b3J5IjoiMSIsIm5hbWUiOiJlbWFpbCIsImJzX2NsYXNzX2lkIjoiMTIiLCJkaXNwbGF5Ijoicm93IiwibWluX3NpemUiOiIiLCJtYXhfc2l6ZSI6IiIsImFkZF9jbGFzc2VzIjoiIiwiYWRkX3N0eWxlcyI6IiIsImFkZF9hdHRyIjoiIiwidm5fb25seV9udW1iZXIiOiIwIiwidm5fb25seV9sZXR0ZXJzIjoiMCIsInZuX3BhdHRlcm4iOiIwIiwiZGVmX2NoZWNrZWQiOiIwIn0seyJsYWJlbCI6IiIsInBsYWNlaG9sZGVyIjoiTWVzc2FnZSIsImh0bWwiOiJ0ZXh0YXJlYSIsInZhbHVlIjoiIiwibWFuZGF0b3J5IjoiMSIsIm5hbWUiOiJtZXNzYWdlIiwiYnNfY2xhc3NfaWQiOiIxMiIsImRpc3BsYXkiOiJyb3ciLCJtaW5fc2l6ZSI6IiIsIm1heF9zaXplIjoiIiwiYWRkX2NsYXNzZXMiOiIiLCJhZGRfc3R5bGVzIjoiIiwiYWRkX2F0dHIiOiIiLCJ2bl9vbmx5X251bWJlciI6IjAiLCJ2bl9vbmx5X2xldHRlcnMiOiIwIiwidm5fcGF0dGVybiI6IjAiLCJkZWZfY2hlY2tlZCI6IjAifSx7ImxhYmVsIjoiU2VuZCIsInBsYWNlaG9sZGVyIjoiIiwiaHRtbCI6InN1Ym1pdCIsInZhbHVlIjoiIiwibWFuZGF0b3J5IjoiMCIsIm5hbWUiOiJzZW5kIiwiYnNfY2xhc3NfaWQiOiIxMiIsImRpc3BsYXkiOiIiLCJtaW5fc2l6ZSI6IiIsIm1heF9zaXplIjoiIiwiYWRkX2NsYXNzZXMiOiIiLCJhZGRfc3R5bGVzIjoiIiwiYWRkX2F0dHIiOiIiLCJ2bl9vbmx5X251bWJlciI6IjAiLCJ2bl9vbmx5X2xldHRlcnMiOiIwIiwidm5fcGF0dGVybiI6IjAiLCJkZWZfY2hlY2tlZCI6IjAifV0sIm9wdHNfYXR0cnMiOnsiYmdfbnVtYmVyIjoiNCJ9fSwiaW1nX3ByZXZpZXciOiJ0ZWEtdGltZS5wbmciLCJ2aWV3cyI6IjE3MjUwIiwidW5pcXVlX3ZpZXdzIjoiODEzMSIsImFjdGlvbnMiOiIxNCIsInNvcnRfb3JkZXIiOiIxMCIsImlzX3BybyI6IjAiLCJhYl9pZCI6IjAiLCJkYXRlX2NyZWF0ZWQiOiIyMDE2LTA1LTAzIDE1OjAxOjAzIiwiaW1nX3ByZXZpZXdfdXJsIjoiaHR0cHM6XC9cL3N1cHN5c3RpYy00MmQ3Lmt4Y2RuLmNvbVwvX2Fzc2V0c1wvZm9ybXNcL2ltZ1wvcHJldmlld1wvdGVhLXRpbWUucG5nIiwidmlld19pZCI6IjExXzYzNDUyNCIsInZpZXdfaHRtbF9pZCI6ImNzcEZvcm1TaGVsbF8xMV82MzQ1MjQiLCJjb25uZWN0X2hhc2giOiJkNzEyYmZjODNhNWE3NDVjNzkzMDMxNTliZDAzNmQ0ZiJ9